Francisco Ferrándiz (ILLA) publica un artículo sobre memoria histórica de España ​en la prestigiosa revista "Current Anthropology"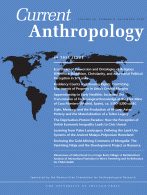 "Unburials, Generals, and Phantom Militarism: Engaging with the Spanish Civil War Legacy" es el título del artículo de Francisco Ferrándiz (ILLA, CCHS-CSIC) publicado en la revista académica Current Anthropology. El artículo, como indica el autor, "conjuga análisis con actualidad" y está disponible en acceso abierto.
Resulta interesante notar que la revista permite añadir, de forma complementaria al texto del artículo, diversas aportaciones de material gráfico suplementario de gran relevancia para la contextualizacíon del artículo.
Current Anthropology es una de las mejores revistas americanas de antropología, publicada por The University of Chicago Press Journals y patrocinada por la Fundación Wenner-Gren para investigación antropológica.