Coloquio y presentación del libro «Alan Lomax y Jeanette Bell en España (1952-1953). Las grabaciones de música folclórica», de Ascensión Mazuela-Anguita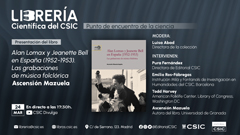 Lugar: Librería Científica del CSIC, c/Serrano, 123 (Madrid) y por streaming a través de YouTube (enlace)
Este libro pertenece a la colección De acá y de allá. Fuentes etnográficas.
Participantes:
- Pura Fernández. Directora de la Editorial CSIC e ILLA-CSIC.
- Emilio Ros-Fábregas. IMF-CSIC, Barcelona.
- Todd Harvey. American Folklife Center, Library of Congress, Washington DC.
- Ascensión Mazuela, autora del libro. Dpto. de Historia y Ciencias de la Música, Universidad de Granada.
Modera: Luisa Abad, directora de la colección
Organiza: Editorial CSIC
Ascensión Mazuela-Anguita es investigadora y profesora del departamento de Historia y Ciencias de la Música de la Universidad de Granada y Premio de la Sociedad Española de Musicología 2013. Ha publicado diversos trabajos sobre mujeres y música, música en ceremonias urbanas y folcore musical, destacando sus colaboraciones a revistas como Early Music, Music & Letters, Bulletin of spanish Studies o Eastern Modern Women.